My oh my how time flies when your little one is growing up. I feel like I barely have time to blink and take in the moment before it's gone and he is bigger. We have been trying to work on a sleep schedule as I will be going to work next month and I have the opportunity to take him with me. Which is so great but still majorly stressful for me. I have been trying to completely indulge every waking moment I have alone with him and give him as much attention as I can now seeing as when we are at work I have... well you know a job to do too. So most of our day consist of a fun little routine. (Can you tell I'm a little obsessive about structure and schedule.. maybe a little too much. HA!) Here's what our days look like most of the time with exception of days we go out. To spare you all the details I will just post activity times and skip all feeding and diaper changes.
7:00 am- He wakes up bright eyed and bushy tailed ready to start his day (this is his happiest most active time. We start the morning with morning time songs, a clean diaper and a full
tummy. We play for a while. He usually likes his activity gym for a while before looking exhaustedand falling asleep again.
Clearly not B in the picture but it is the activity gym he has.
At about 12ish he is pretty calm and alert so I take this time to either read to him or teach him a few words in sign and Spanish. Anything from his body parts to playing with finger puppets and telling him the name of each thing. If in the mood to settle he really likes to be read to . His favorite book is Paul Frank High Five which is an adorable touch and feel book. I think he likes all the bold colors
This is by far one of my favorite pictures to date. At around 3 he starts to get a little fussy and just wants to be held so I try to make the best of this time by throwing on some music and dancing around with him. I'll play pretty much anything that has a good beat but we mainly listen to Salsa for Kittens and Puppies. It is the cutest album of classic and new songs done in a salsa beat. Not only is it in both Spanish and English but it actually has a good beat so you are actually enjoying it too. It's a win win situation, I get a little work out and he get to be held.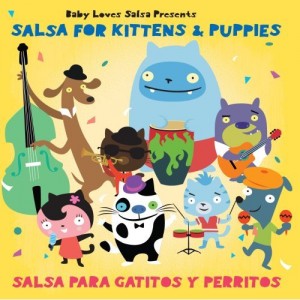 Finally in the evening we wind down a bit I sing to him (Note all this singing I do is NEVER done on key. He is the only one who enjoys this.) He might go into his activity gym one last time before his bed time we get his jammies on and say our prayers and he is in bed by 7:30 or 8 which is his longest sleep session.
This is just what an average day may look like but obviously he is a baby and sometimes his temperament determines how the day is going to go. I think that, that is the key to really enjoying your time with a baby. Knowing he/she well enough to know how they might react to activities and going with the flow. For me exploration and keeping his mind stimulated is super important. I like to think about it as if I were the ultimate tour guide. Imagine being in a place completely new every sound, smell, color is something you have never experienced before. I feel like God has given me the privilege to be able to show B all these things for the first time and I don't want to take the opportunity for granted.